5 Space-Saving Hacks for Your Walk-In Closet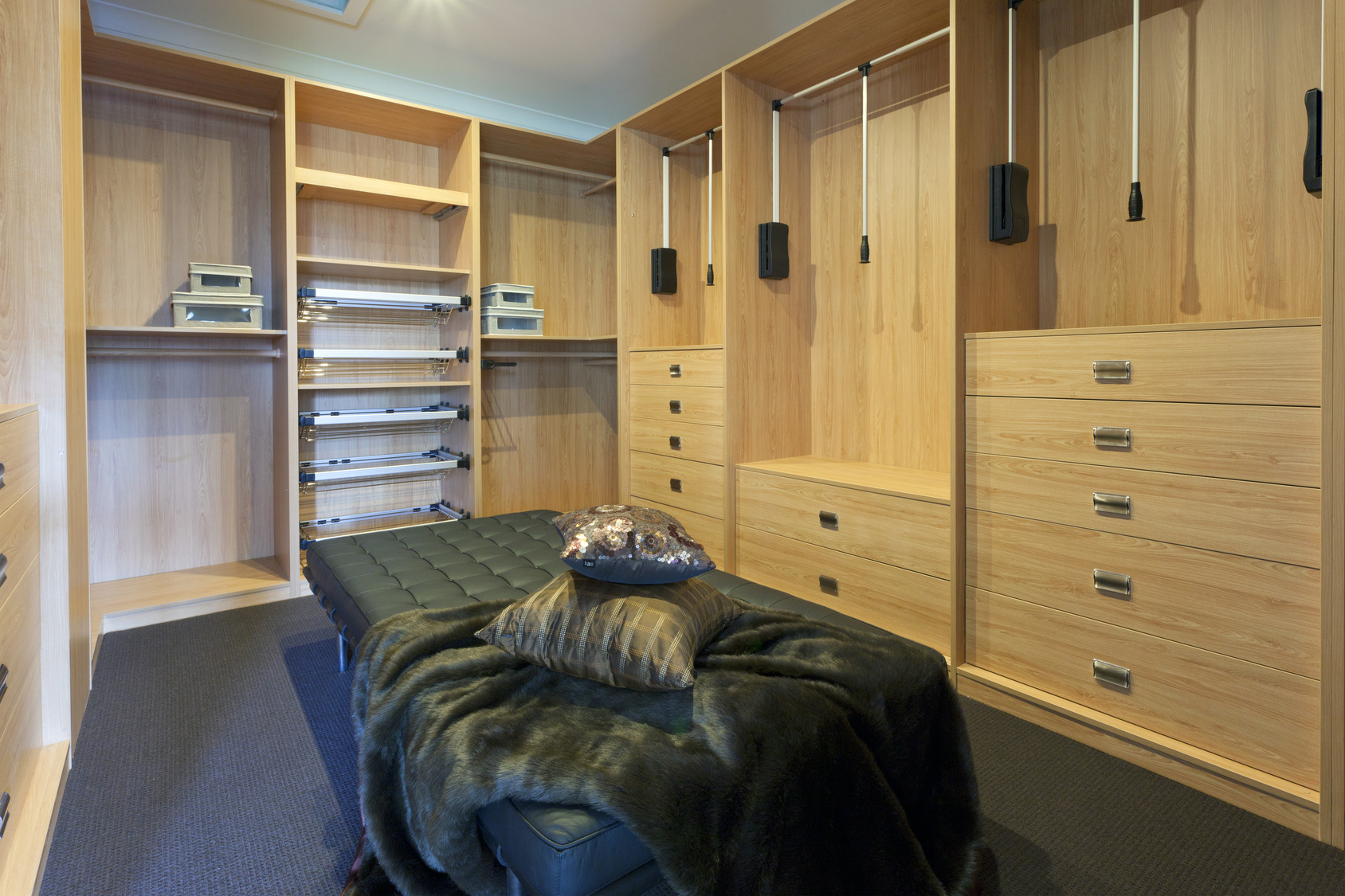 A good, well-designed closet does more than hold your possessions—it keeps your home neat and organized, helps streamline tasks like getting ready in the morning, and keeps your mind clear and focused. A custom closet in Atlanta, especially, can achieve all this and more by offering unique and effective storage tools that break from the ordinary for maximum storage and organization potential. You can improve the design of your walk-in closet in Atlanta thanks to a few space-saving hacks. Here are 5 favorites.
Corner Shelves
Usually, corner shelves are only a few inches across and are used for holding picture frames or candles. But these efficient features do more than hold decor. They can be used in closets to eliminate unused corner space. Use them to hold accessories, shoes, or even folded pants and shorts. For best results, customize corner shelves for your exact closet. What fits perfectly in a 5 x 10 closet may not fit well in yours.
Built-In Furniture
Many homeowners choose to hide dressers or hutches in their closets to save space and take advantage of their convenient drawer features. However, dressers that are not customized to fit the exact space will actually be wasteful of precious square footage. Furniture often has decorative feet, corners, or tops that jut out and fill unnecessary space. Why not order custom, built-in drawers for optimal closet storage in Atlanta?
Pull-Down Rods
Horizontal hanging rods are essential for any closet. A closet designer in Atlanta that fails to leave sufficient hanging space will be doing you a major disservice. After all, business and formal attire only keep their shape and neat appearance when they are hung. But instead of wasting an entire closet with wrap-around closet rods, why not double or even triple your closet's storage potential with pull-down rods, which can be raised, lowered, and angled away for even more hanging space. Even better, they give you the ability to hang unused or unneeded clothing (summer clothes in the winter, for example) up high.


Storage by Category
One of the best ways to take advantage of a closet is to organize your stored possessions by type and shape. For example, store pants and shirts in separate places because they will fit together neatly—saving you space and cutting down on outfit searches when you are in a hurry. Keep shoes in neat shelves and scrunch your ties together neatly on specialized rods. Customized closet furniture makes this possible thanks to specialized storage features that help you categorize your clothing.
Professional Assistance
For this and more closet ideas in Atlanta, get in touch with custom closet designers, whom you can hire to turn an ordinary walk-in closet into a beautiful, optimized storage space with huge potential and practical, space-saving features like the hacks above. Professional walk-in closet design in Atlanta is the solution to any storage issues you may face. These designers can find any and all unused potential and create the tools, features, and furniture to increase your storage potential. Even better, they can make the room look stylish and comfortable.